productions
Murder Ballad Murder Mystery heads out on Central Texas tour!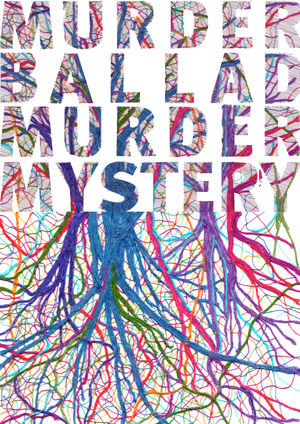 Murder Ballad Murder Mystery's legendary outlaws and their dastardly black hearts are going out on the prowl again! paper chairs is hitting the road this July for a central Texas tour to San Antonio, Ft. Worth, and Strawn, with a stellar ensemble of returning and new cast members! We are rounding the month out with a limited appearance in Austin of only two performances:
July 15 at Cheer Up Charlie's & July 17 at the Longbranch Inn.
After incredible success this past fall with our tour to the New Orleans Fringe Festival and the Lost Horse Saloon in Marfa, TX, and our sold out performances across Austin, this show is ready for another round of existential haunting!
This backwoods musical, written by local playwright and paper chair company member Elizabeth Doss, features live music, dance numbers, and bawdy bad guys. It's "overwhelmingly entertaining… [with] many quirky, oddball moments that make the show great."
(Broadway World fall 2013 review.)

To kick off our Summer 2014 tour, we're doing a benefit performance on Wednesday July 9th at a private home in South Central Austin. The evening's performance asks for a minimum donation of $30 per person and will provide a more intimate Murder Ballad experience for our donors and super fans. More details are available on our event page at http://www.brownpapertickets.com/event/761471
You must RSVP in advance through the link or email info@paperchairs.com
We need YOUR help to make this tour happen. Ways to help:

Come to the July 9 benefit performance!
Come to one of the tour shows!
Tell your friends about the tour!
Donate now! With this donate button through our fiscal sponsor ACA!
Did you miss Murder Ballad last year? Curious to see it in a different venue?
Couldn't get those songs out of your head?
Go on then and try to catch these demons wherever you can!
Featuring: Noel Gaulin as Stagger Lee, Kelli Bland as the Sheriff, April Perez Moore as Felicity, Laura Freeman as Tom's Wife, Elizabeth Doss as Bea, Mark Stewart as Tom.
And Introducing: David Higgins as Jay and Rachel Dendy as Sadie/The Harp.
Script and book by Elizabeth Doss
Original Score by Mark Stewart
Directed by Elizabeth Doss and Lisa Laratta.
Costume Design by Hope Bennett.
Produced by Elizabeth Doss, Lisa Laratta, and Spring Karlo
Summer 2014 Central Texas Tour Performance dates and times:
7/12 Saturday – San Antonio, TX at the Esquire (9pm)
7/15 Tuesday – Austin, TX at Cheer Up Charlie's (9pm)
7/17 Thursday – Austin, TX at The Longbranch Inn (9pm)
7/19 Saturday – Strawn, TX at the Historic Zimm's Building (9pm)
7/20 Sunday – Ft Worth, TX at The Grotto (9pm)