productions
paper chairs is thrilled to kick off our fall season with a resurrection of
Murder Ballad Murder Mystery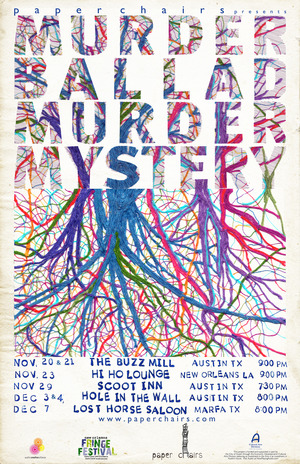 Stay tuned to our Facebook page for more weekly video teasers!

PERFORMANCE DATES AND TIMES:

11/20 & 21st: The Buzz Mill, Austin, TX 9pm

11/23: Hi- Ho Lounge, New Orleans, LA 9pm *

11/29: Scoot Inn, Austin, TX 7:30pm **

12/3 & 4th: Hole in the Wall, Austin, TX 9pm

12/7: Lost Horse Saloon, Marfa, TX 8pm

---

This project is funded and supported in part by the City of Austin through the Economic Development Department/Cultural Arts Division believing an

investment in the Arts is an investment in Austin's future. Visit Austin at NowPlayingAustin.com.