upcoming
September 2017 – the world premiere of
Catalina de Erauso
written by Austin playwright and paper chairs' co-founder Elizabeth Doss,

and directed by Dustin Wills.

Here we are in the Spanish Golden Age
(close your eyes: beautiful music plays… now open them…)
Lights up on our protagonist, Catalina de Erauso – a nun and only fourteen! – who BREAKS out of a convent and wreaks havoc on the world disguised as a man. Our derelict Don Quixote satisfies her own hedonistic appetites – and why not? In the Age of the Spanish Gold (beautiful music plays again) women have three fates: motherhood, the convent or the brothel.  NOT CATALINA. Our star embraces her ambiguous sexual identity and revolts against these dead-end gender roles.
This original spectacle, written by Elizabeth Doss and based on an actual 16th century autobiography, brings Catalina's brazen tone and commedia-like boisterousness back from the past through an anachrontistic quest for life, liberty, and the pursuit of… who knows? And even, after a lifetime of chasing war and women, Catalina's transgressions (including the murder of her own brother) are miraculously **CENSORED DUE TO GOVERNMENT CONCERN**
So who was Catalina? A wayward nun? A bloodthirsty Conquistador? An overlooked revolutionary? Hell on hooves?  A woman? A man? Catalina will not be defined. Catalina breaks every rule to smithereens. So paper chairs has ripped her/him/they from the pages of history and is bringing this mayhem to a theatre near you.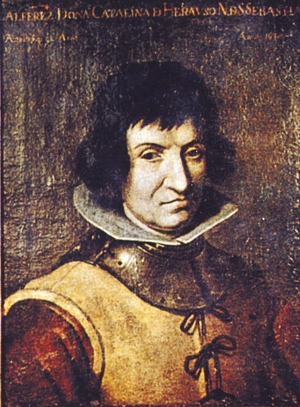 (Catalina portrait attributed to Juan van der Hamen. 1626.)
This big Big BIG SHOW will feature an ensemble of 10 performers, and its artistic team is led by paper chairs' core collaborators, including a creative reunion with paper chairs' former Artistic Director and co-founder Dustin Wills (website plug: dustinwills.com), who is a Princess Grace Award-winner and director – currently gainfully employed in New York City, though dying for a great reason to come HOME.
In Dustin's own words:  "Catalina is what paper chairs does best: It's new! It's peculiar. It's adventurous. It's gigantic intimate. It's a lot of history right now and also next week but really a few generations past and long ago. It's got music. And Lisa Laratta. And surprise. And isn't afraid of its shadow. It's theatre, it must be, it couldn't be anything else – it's live! and needs living breathing humans to inhale it and hold it in a little long, so that you keep what you need and release what you don't. It's us… PS. So excited to come back to Austin!!!"
Catalina de Erauso – Artistic Team:
Playwright – Elizabeth Doss
Director – Dustin Wills
Dramaturg – Diana Lynn Small
Scenic Designer – Lisa Laratta
Produced by paper chairs
Performances: 3 weekends – September 2017
How YOU can help:
ANY DONATION can go a long way:
$20 Donation = 1 hour of rehearsal space rent
$50 = printing of our show posters
$100 = 1 performer's costumes
$400 = a round trip flight to bring Director Dustin Wills in from New York City
$500 = 1 performer's stipend
$500 = 1 night of performance space rent
Give online!
Make a tax-deductible donation through our fiscal sponsor
The Austin Creative Alliance here!
(just be sure to find paper chairs' name!)
Give your love!
Tell your friends on facebook, twitter, instagram, etc… about Catalina & share your support! Find your favorite/nearest paper chair & give them a hug or an in-person donation!

We hope you'll join forces with us.
Thank you for supporting a flourishing theatre community in Austin, Texas.
All of our love,
paper chairs